Alyson Simpson, MD
Board Certified in Allergy & Immunology (Pediatric and Adult)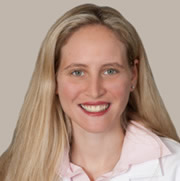 Dr. Alyson Simpson graduated from the Honors Program in Medical Education at Northwestern University Feinberg School of Medicine in Chicago, Illinois. Following residency training in Pediatrics at AI. duPont Hospital for Children in Delaware, she was awarded a fellowship in Allergy, Asthma, and Immunology at Thomas Jefferson University in Philadelphia.
Dr. Simpson is board certified in Allergy and Immunology and has been treating patients of all ages with allergies, asthma, and immunologic conditions since 2008. She is a member of the Pennsylvania Asthma and Allergy Society and is on medical staff at Main Line Health, Delaware County Memorial Hospital, Grand View Hospital, and Abington Health System. Dr. Simpson has been awarded "Top Doctor" by Main Line Today.
Dr. Simpson has published numerous medical research articles and has continued to present lectures and grand rounds to local house staff. She has been recognized by her colleagues for her compassion and devotion to teaching.
Simpson Allergy and Asthma
We are committed to providing you with the highest level of care in a friendly, courteous environment. Dr. Alyson Simpson prides herself in forming strong bonds with her patients and customizing an individualized treatment plan that improves quality of life.
Simpson Allergy and Asthma focuses on a wide variety of allergy, asthma, and immunology related conditions including but not limited to asthma, seasonal allergies, pet allergies, year-round allergies, allergic rashes, eczema, hives, chronic sinusitis, and drug allergies. Dr. Simpson performs skin testing, patch testing, breathing tests, breathing treatments, allergy shots, Xolair injections, food challenges, and drug challenges.
Dr. Alyson Simpson • Publications
5/2010 – Simpson AB, Yousef E, Hossain J. Evaluation of the relationship between IgE level and skin superinfection in children with atopic dermatitis. Allergy and Asthma Proceedings. 2010 May-Jun;31(3):232-7. doi: 10.2500/aap.2010.31.3335. Department of Allergy and Immunology, Alfred I DuPont Hospital for Children. Wilmington, Delaware 19083.
10/2009 – Simpson AB, Yousef E, Hossain J. Association between peanut allergy and asthma morbidity. Journal of Pediatrics. 2010 May; 156 (5):777-81, 781.e1. doi: 10.1016/j.jpeds.2009.11.080. Epub 2010 Feb 12. Department of Pediatrics. Alfred I. DuPont Hospital for Children. Wilmington, DE 19083.
4/2009 – Simpson, AB, Murphy AW, Yousef E. The acceptability of a four-part protocol for penicillin allergy testing by practicing allergists. Allergy and Asthma Proceedings 2009; (30): 192-201.
6/2007 – Simpson, AB, Glutting, Yousef. Food allergy and asthma morbidity in children. Pediatric Pulmonology 2007; (42): 489-495.
Ready to start feeling better today?
A simple appointment can start you on the path to managing your severe or mild asthma and allergy problems with an effective plan.